More talkative Salfordians are wanted to help researchers map the various accents and dialects across Greater Manchester.
The project, which has been running throughout lockdown, aims to capture the voices of those living across the region, and record people's thoughts on the accents and phrases that are most associated with their area.
Dr Holly Dann is one of the post-doctoral research associates from Manchester Metropolitan University who organised the Greater Manchester Voices project, alongside her colleagues Dr Rob Drummond and Dr Sadie Ryan.
She highlighted how important language is in culminating a sense of identity.
She said: "Where people are from, where they live, and other elements of their identity like their ethnicity, their age, all kinds of things are incredibly important to people, and all of those things are reflected in how we speak.
"Our accent is a kind of fingerprint of various aspects of our identity; it tells a story about where we're from.
"That's something we're seeing all over Greater Manchester, is that people have a really strong connection to their local area – they don't think of the region as one great monolith. People don't even seem to just think of themselves as being Northern, or from the North West – they really identify with their particular borough."
When it comes to what makes Salfordians' accents so unique, Dr Dann's research so far has highlighted the borough's strong 'Manc' roots: "We're still doing very preliminary analysis on pronunciations, but I can definitely see that Salford and the central areas of Manchester are very distinct from the other boroughs, in that they have this very strong, what people would call traditional 'Manc' dimension to their accents.
"So, what I've noticed so far is a distinction in that 'er' sound at the end of words like 'Manchester' or 'letter', seems to be most prominent in the Salford accent. But in terms of other things that make it unique – I don't know yet! That's why we need people to get involved."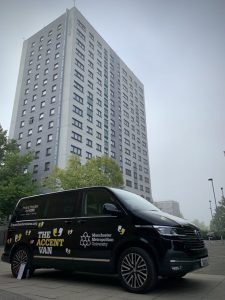 Over the course of the project, the research team have been sending out their Accent Van, which willing volunteers can step into and record their responses to a range of questions about how they perceive their area's accent. However, as the cold winter nights draw in, the best way for people to get involved now is via the project's website, where you can participate in the Accent Van experience virtually instead.
Dr Dann wants to encourage all Salfordians to take part, even those who may not feel they fit the mould of a 'typical' Salford accent: "It's easy to assume that with this type of project, we're looking for a very specific type of person, who has lived in the area all their life and has family history here going back generations. But, while those people are great, and we have lots of them, we're interested in getting a snapshot of how people speak in Greater Manchester right now.
"So, no matter how long you've lived here or how 'local' you feel – if you've just immigrated here from another country, we'd love to hear that, as well as people who don't think of themselves as a traditional Manc, we absolutely want to hear from them as well – so, anyone at all who lives in Greater Manchester, we'd love for them to take part."
Once the team have completed their research, the data they have collected will be used to compile maps and visual displays of the area's various accents, which will be displayed at the Manchester Poetry Library in Spring 2022.
If you want to get involved in the Greater Manchester Voices Project, you can visit their website to access the virtual accent van. You can also keep up to date with the project on their Facebook and Twitter pages.