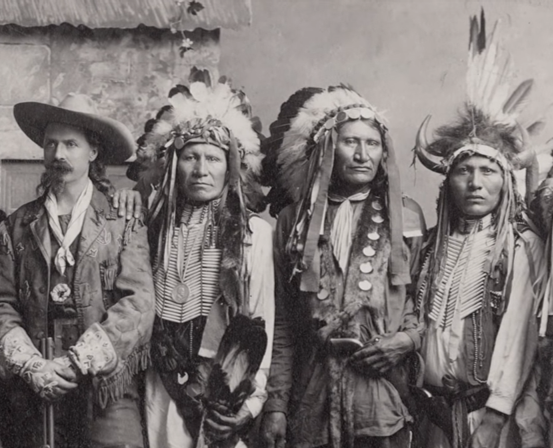 December will mark the 136th anniversary of when the famous Buffalo Bill brought his Wild West Show to Salford.
Known as "Buffalo Bill's Wild West and Congress of Rough Riders of the World", the show lit up the town for five months.
Buffalo Bill's Wild West show first arrived to Salford in December 1887, with the show including 97 Native Americans, 18 buffaloes and 108 broncos.
When they arrived in England, the British Tour began with the Queen's Jubilee from which it moved to Birmingham and later Salford. Queen Victoria was so impressed, she demanded several performances.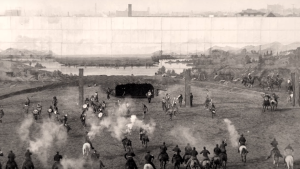 Once the show arrived in Salford, they set up camp on Salford Racecourse which would later become Dock 9 at Media City from the 14th December to the 30th April 1888.
They played to packed crowds from a site on the banks of the River Irwell, which is now known as the Lowry Gallery and was seen by people of all kinds including MPs, Mayors, merchants and traders in Salford and around Manchester.
Furthermore, it was recorded that the Native Americans raced their broncos against English thoroughbreds over a 10-mile course and won with 300 yards to spare.
26-year-old Lakota Chief Charging Thunder, had blood relatives still residing in Manchester. He decided to stay in Salford once the show left and married Josephine, one of the American horse trainers and they settled locally.
After changing his name to George Edward Williams, he juggled jobs as a handyman and a door man at the picture house – he also rode an elephant called Nellie at the Manchester Belle Vue Circus.
He moved from Salford to Gorton, Manchester and has descendants still living there today. Rita Parr is the granddaughter of Charging Thunder and her family are still believed to be in Manchester.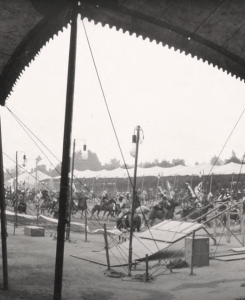 Salford are also home to the first born Native American overseas. Records dating back to 1888 show that a Lakota girl was baptized in Salford. Born in Salford she was the child of Little Chief and Good Robe.
She was baptized in St Clement's Church in Ordsall and her name was recorded as Frances Victoria Alexander, but fittingly her real name was Overseas.
Black Elk was a medicine man apart of the travelling show who later rose to fame after the release of a book called "Black Elk speaks". He lingered in Salford once the show left due to becoming stranded after missing his train and was forced to make his own way back to South Dakota.
In 1931 he was famously interviewed by John G. Neihardt, which was then used in the book and contained Black Elk speaking on his culture and history. The book became classic Native American literature.
When the Wild West show were in Salford a Native American man sadly passed away from a chest infection. The 22 year old whose name was Surrounded By the enemy could have possibly passed from the cold weather.
The 6ft 7 Lakota Warrior was known for wild west gun slinging and as a horse riding stuntman. His body was a mystery for a long time with his body not being recovered after a decade, however, it was found in 2007 at Brompton Cemetery, a Royal park in West London.
The reason his burial was over 200 miles from his death site was so he could be buried near his fellow Lakota warrior Paul Eagle Star.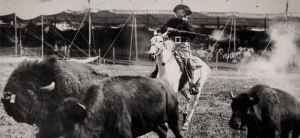 Buffalo Bill was a former hunter, veteran and finally an impresario leading the show; he became one of the first global celebrities as a result.
The day before Bill was due to leave Salford he travelled to a couple of the pubs on Cross Lane where he met the landlord, Thomas Twist, at the Buck Hotel for a farewell drink. After calling a cab and being waved off, he was taken home to his lodgings, located close to Howard Street.
The cab driver Mr. Broadhurst took him to where he was staying until an argument began. Buffalo Bill accused the cab driver of taking the long way round and refused to pay the fare.
The angry Mr. Broadhurst went to the police and demanded he be arrested. The police had a dilemma due to the councils idea of naming Broadway to Buffalo Bill Way as well as discussing the possibility of providing Bill with the freedom of Salford due to his charitable work in the area.
In the end, the court had set a date for the trail to begin. Mr. Broadhurst turned up but Buffalo Bill could not make it. He sent his apologies and pleaded guilty under the pretense he was prepared to accept whatever the magistrate deemed fit.
Moreover, he was fined three pounds and ten shillings, which was paid at once directly by Mr. Twist.
Buffalo Bill's impact was so great that streets in Salford – such as Sundance Court, Dakota Avenue and Kansas Avenue – were said to be named in honour of it.