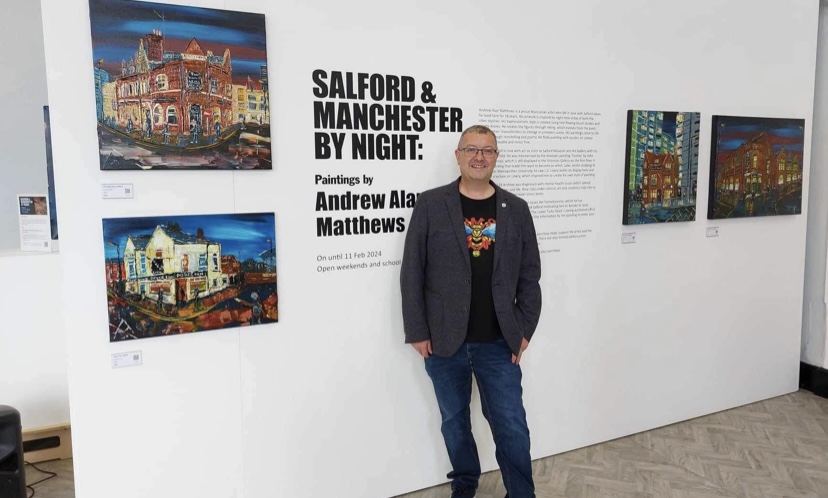 Andrew Alan Matthews has launched a new public display at Salford Museum and Art Gallery. 
The artist has signed a contract for five months with the Museum, where the 'Salford & Manchester by night' collection will be on display until February 11 2024.
Mr Matthews states that it has been a lifelong ambition to get his work in the gallery, especially as his idol L.S Lowry's work hangs there.
Along with publishing paintings, the artist has released his own books. His Cityscape paintings are due to be released in 'The city through the eyes of it's artists', in 2024.
He explains that his parents used to take him to the gallery as a young boy, and ever since he has been "in awe" with the artwork.
Mr Matthews said: "This is where my love of art began, I liked how L.S Lowry created his own style, so that's what I did, I came up with my own style too."
And after years of applying various collections of his to the gallery, his dream has finally come true.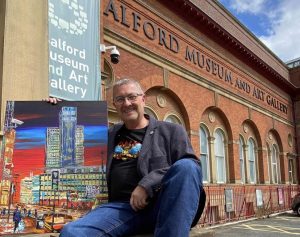 Andrew has always been an art lover, and has worked in related jobs such Textiles in the past, but with the introduction of computers in modern society "it just became too stressful".
Although he still has to work part time, Andrew has hopes that by selling his artwork and doing commissions, there is a potential of making a full-time living out of it.
Video Credit: Andrew Alan Matthews
Alongside this, he has donated 'The Lower Turks Head Painting' which will be part of a silent auction in order to raise funds for Real Change MCR.
In Salford alone, one in 279 individuals live in near poverty at some point in their life, and as the majority of the homeless struggle with mental health, this is something Mr Matthews can relate to, and closely supports Mind and raises awareness of such struggles through his artwork and poetry.
The exhibition which is located at the front of the University of Salford, is free to attend with no booking required, and is open weekends from 11:30am until 4pm, and on school holidays.
Further details of his work can be found on Andrew's website