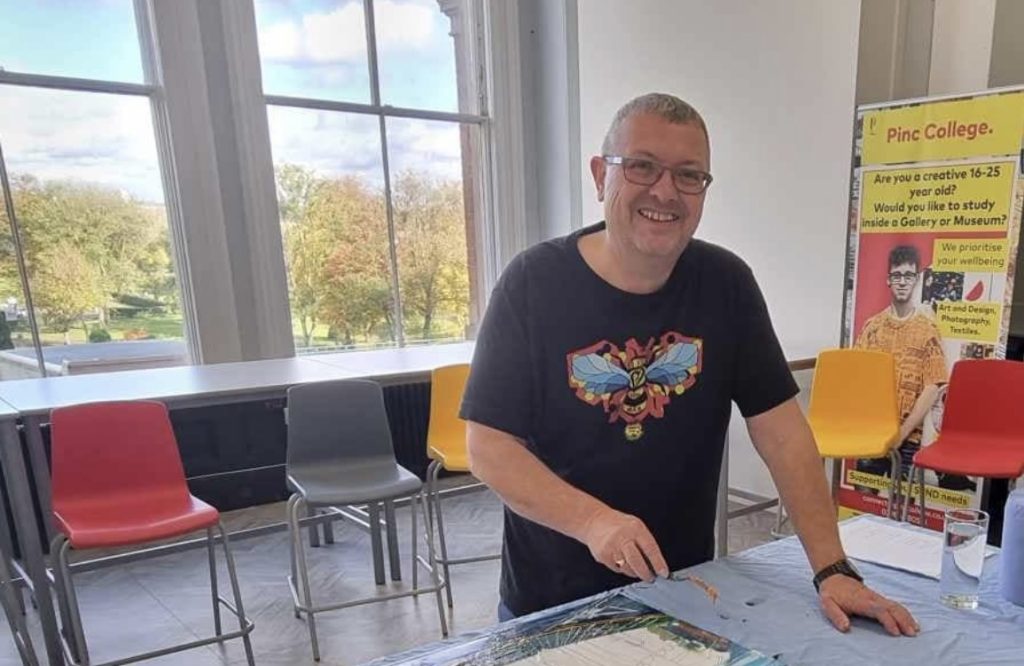 Salford Museum and Art Gallery will be holding another open mic night based on Salford artist Andrew Alan Matthew's 'night and day' paintings.
Hosted by 'Northern Poets' Society' and created by Bryan Dunne during lockdown, members have been asked to write their poetry pieces based on Andrew Alan Matthews' current display at the museum.
Andrew, a local artist inspired by his "idol" L.S Lowry, was chosen to hang up his work in the space on a five-month contract, expiring on February 11 2024. His 'Salford and Manchester by Night' collection currently resides next to his inspirations work.
The Poetry night, taking place next Wednesday November 15, will run from 6pm – 8pm and tickets are available to book for £5 per person. Age restrictions for this event is 18+ only.
Bryan Dunne explains that post-Covid, the online meetings continued once a month, but "we started putting on live events so that poets could share their work in person."
So far, the group have held sessions in Clitheroe Castle, Bury Market, Salford Museum and Art Gallery, Working Class Movement Library, Delamere Forest, Manchester Cathedral and Portico Library.
Bryan states: "I feel like having them in accessible places is important and where possible they are always free. Art shouldn't price people out."
Audience members will also be invited to speak, on the art collection, or any other chosen topic in this "safe space."
Andrew explains: "I produce art, and YouTube videos on people, places and social issues (to) bring positivity through my art and storytelling."
His piece on Salford Quays Imperial War Museum by Night, which already resides at the exhibition, is what he has based his poetry reading on.
Andrew Alan Matthews reading his poetry in front of his Imperial War Museum painting.
Andrew states: "We are very fortunate to live in peace and security in the UK. We should look for peaceful resolutions for all and not go down the pathway of destruction."
Alongside his passion for artwork and poetry, Andrew holds Remembrance Day close to his heart as his father was part of the RAF. His father, who fought in the "Cypriot uprisings" was "shot through the knee cap defending freedom and democracy." Andrew continues: "His best mate Paddy died by his side, and still he continued to serve our country."
He has high respect for "our brave servicemen and women" due to "the sacrifices they made to defend our democratic freedoms and way of life …from all cultures, faiths, colours and creeds, who made the ultimate sacrifice." Not forgetting "the bravery of soldiers and nurses – the fighters and the healers, and their service dogs and horses" too.
Andrew urges everyone to "wear your poppy with pride and remember those brave soldiers from all types of conflicts"
"To remember all conflicts of past and present", Andrew has painted a "limited edition" image in honour of our fallen soldiers. The A3 print is will be available to buy this Saturday November 11 for £40.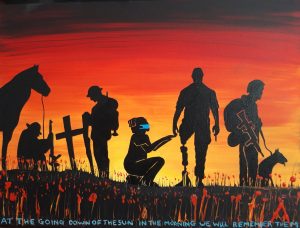 If Andrew could "say anything to the leaders of the world", he would ask them to "come to the talking table and come to an amicable solution where we can all live in peace", in hopes that one day, war will be a thing of the past.
"At the going down of the sun, and in the morning, we will remember them," Andrew added.